Call (425) 533 2150
OR TEXT (206) 719 2644
OPEN EVERYDAY
1420 156TH AVE NE
BELLEVUE WA
SUITE L-2
EarPiercingStudio.com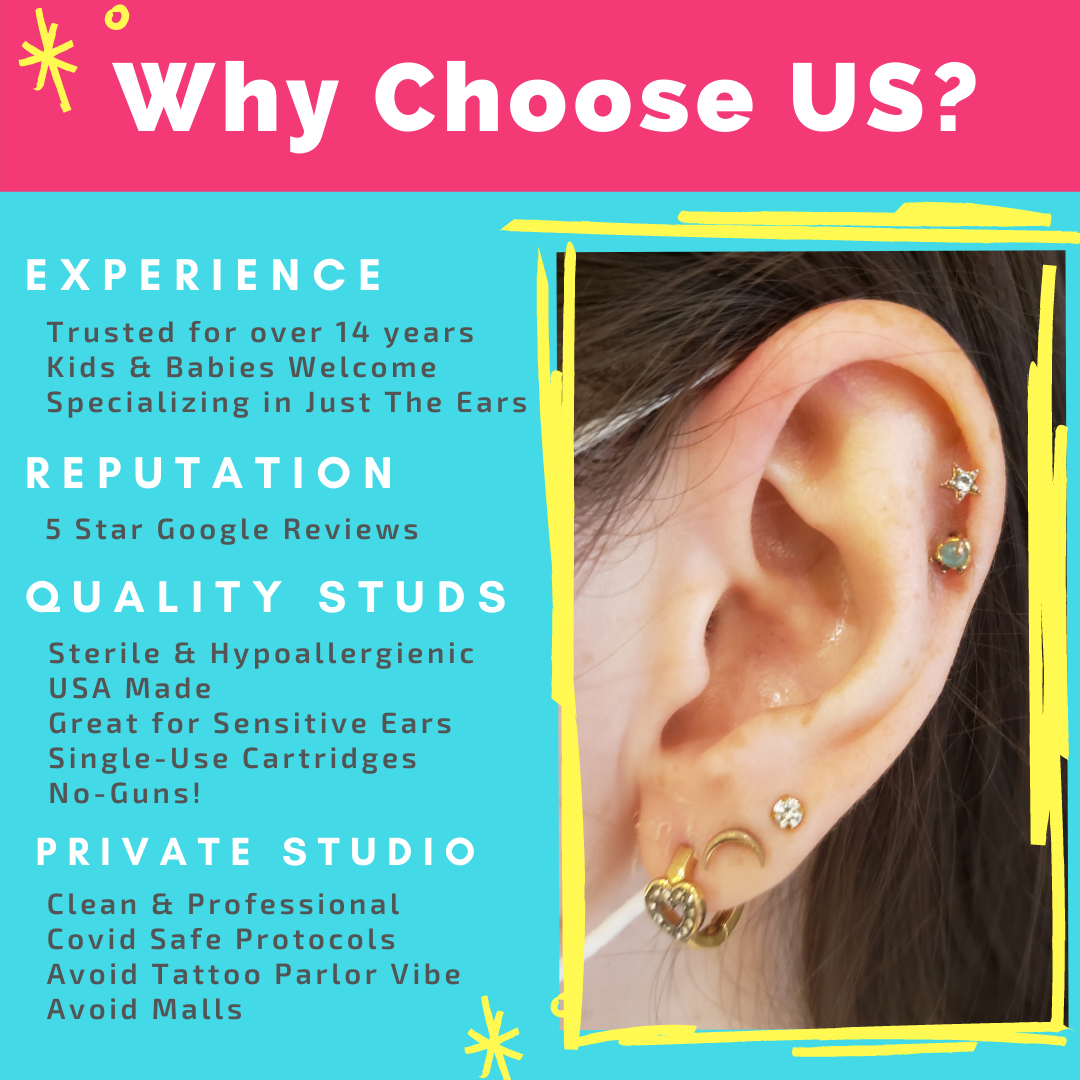 About Our Ear Piercing
Our piercing studio provides clients with safe, professional, and beautiful piercings that you will love. We work hard to provide ensure a safe, comfortable, and hygienic environment to make your piercing experience one you enjoy. We offer a needle-free approach and specialize in earlobe and select cartilage piercings using traditional stud and clasp earrings that are designed for sensitive ears. Everything we use during our piercing process arrives pre-sterilized inside a disposable cartridge. Earrings and components are made in the USA and meet both FDA and E.C. safety standards. We offer our high-quality ear piercing and re piercing services to women, men, teens, kids, and babies. We now offer 14K Gold Hoop ear piercings that you will love.
Babies Infants Kids Tweens Teens Women Men
Metal Earring Choices (Prices include 2 piercings and vary by location)
FRESHWATER PEARLS
CUBIC ZIRCONIA
BLACK ONYX
DAISY FLOWERS
CLASSIC GOLD BALLS
AQUAMARINE
SEPTEMBER SAPHIRE
DECEMBER ZIRCON
OCTOBER ROSE
RUBY
CRYSTAL CROSS
COLORED CRYSTAL
CLEAR CRYSTAL
TITANIUM W/CRYSTAL
SIMULATED PEARL
BEZEL SETTINGS
TIFFANY SETTINGS
CRYSTAL STUDDED BALL
BABY SHORT POST LENGTH
LONG POST LENGTH
14K GOLD HOOPS (HINGE STYLE)
STAINLESS STEEL HOOPS (POST STYLE)
MOLLY S.
GOOGLE 5 STAR
"I brought my daughter here to get her ears pierced for her 13th birthday. Traci was super caring and patient as my daughter took her time choosing from a really nice selection of earrings. Her salon is clean and really cute. She took lots of time making sure the dots she drew on both ears were perfectly placed. She helped my daughter feel at ease and she gave her a 1,2,3 count and before we knew it, her ears were pierced. She walked us through the easy care directions and we were on our way. This experience was exactly how I wanted it to be for my daughter's special day! Thank you Traci!"
LOUISE P.
GOOGLE 5 STAR
"This place is the perfect place for just ear piercing. The studio was clean and organized. Traci was very helpful and professional throughout the processes of picking out the right studs forme, explaining aftercare, answering any questions I had, and the actual piercing. Not to mention the appointment booking was efficient and easy. I texted the number on their website and received a reply within 1 minute! I will definitely come back if I am thinking about getting more piercings." A great place to get your ears pierced.
ERICA D.
GOOGLE 5 STAR
"Traci is awesome! My daughter gets very anxious with needles or anything related and tends to get light headed but she was determined to get her ears pierced. Traci kept very calm and made her feel safe and excited. My daughter did end up having a small vomiting episode (she does this with medical things often), Traci was amazing with herk remained calm, let her rest and gave her some ice packs. My daughter left with a huge smile and two fancy new pierced ears! Great earring choices, very professional and kind. We were looking for a setting that was more professional than a mall but not as intimidating as a tattoo/piercing shop. The studio was a perfect salon setting, cute and professional. I have already recommended them to friends!
SILVITA POSADA
GOOGLE 5 STAR
"I'm so happy I found the perfect place to get my 4 months old baby's ears pierced. The place is clean, she is so professional and explained to us everything we needed to know about after care before she pierced my baby's ears. She did an amazing job, my baby's ears looked so healthy, they are healing super fast, it never turned red, the aftercare cleanser she recommended us was so useful as well. If you have an infant this is the place to go.
Can I bring my own earrings to get my ears pierced with? ▼
Unfortunately, no. The piercing earrings we offer are specifically designed to be used with our piercing instrument. They are pre-sterilized and are not touched before piercing your ears. Using other earrings may lead to infection since they may not be properly sterilized.
Do ear piercings hurt? ▼
This is a common question, especially if you are bringing your child in to get their ears pierced. While our piercing instrument makes piercing quick and easy, you or your child will feel a pinch. While the pain depends on your pain tolerance, ear piercings are generally no worse than getting a shot.
What's the best age to let a child get their ears pierced? ▼
There is no right answer to this question and every parent has different views. Some parents want to get their child's ears pierced when they are a baby. Other parents wait until their child starts asking for them. While we aren't going to tell you a right or wrong age, if you are concerned about it, we suggest waiting until your kid tells you they want their ears pierced, whether that is five years old or 15. You should also make sure that your kid is up-to-date on any important vaccines.
Is there anything to do to prepare for the piercings? ▼
While there isn't anything drastic you or your child needs to do to prepare for a piercing, there are some things that we can recommend to make it a better experience. Be sure to eat or feed your child before getting ears pierced. Some people are more prone to fainting, so eating beforehand can help to prevent this.
Which type of metal is best? ▼
All of the earring metal options we offer are high-quality, which means that one is not better than the other. Since our earrings are made with quality metal and sterilized, you are less likely to experience infection as long as you take proper care of your new piercings. The metal you choose can be based on your personal style!
How soon can I change my earrings? ▼
The earrings that you or your child gets their ears pierced with should be left in until the piercing heals. Once the piercing has healed, you can change your earrings out. For earlobe piercings, you need to wait for three to eight weeks. For cartilage, you need to wait eight weeks. Be sure to only wear post style earrings for the first five months with lobe piercings and 12 months for cartilage piercings. You should also be sure to only wear earrings that are made with surgical stainless steel or hypoallergenic material. If you change your earring too soon or wear bad quality jewelry, they could get infected.
How soon can I go swimming? ▼
You should avoid swimming for at least six week for earlobe piercings, and 12 weeks for cartilage piercings. Public swimming pools can often be contaminated with germs and bacteria, making it likely to cause an infection in your new piercing.
If I am a minor, do I need a parent with me? ▼
Yes. If you are under 18, a parent or legal guardian needs to be with you to give consent.
What should I avoid after my piercing? ▼
Avoid touching your earrings with dirty hands. Avoid removing the studs or touching them unnecessarily. Avoid pushing the back of the earring closer to the ear on the post. It should always be positioned in the notch at the end of the post to provide your piercing with adequate airflow.
Is it better to get one piercing at a time? ▼
It is up to you! If you want to get a double lobe piercing, as long as you can properly take care of both of them, there is no issue with getting two piercing on the same lobe at once. Just be sure that you want a double piercing before committing!
Perfect Care For Happy & Heathy Ears
Wash hands thoroughly before touching your studs or ears.

Cleanse the front and back of each ear with Studex After Piercing Lotion or Studex 3 week rapid care solution at least twice a day, starting 24 hours after the ear was pierced, without removing the studs. Gently move each stud back and forth in the hole while applying the aftercare product.

Clean for a minimum of 8 weeks or more for lobes and 12 weeks or more for cartilage. If ears are no longer tender and you have had no issues you may switch to occasional cleaning.

In between cleansing, try to keep your ears dry.
What to avoid?
Do not remove the studs or handle your ears and/or studs unnecessarily.

Do not push the earring back along the post towards the ear. It is important that the back is always positioned in the notch of the earring post. Therefore make sure to check its correct position with every aftercare procedure in order to allow for adequate air circulation, thus accelerating the healing process. An earring that sits too tightly can cause an infection.
What can you do to promote the healing process?
Original aftercare Cleaner: Clean twice per day, leave the studs in your earlobes for at least 6-8 weeks continuously (12 weeks for cartilage piercings).

Original aftercare Cleaner: Clean twice per day, after 6-8 weeks (earlobes) or 12 weeks (cartilage), you can remove the studs and wear other post-type earrings continuously.

Rapid After Lotion: Clean 3 times per day, leave the studs in your earlobes for at least 3 weeks continuously (8 weeks for cartilage piercings).

Rapid After Care Lotion: Clean 3 times per day, after 3 weeks (earlobes) or 8 weeks (cartilage), you can remove the studs and wear other post-type earrings continuously.

Use only post-type earrings continuously for 5 months (earlobe) after piercing (12 months for cartilage), no hook earrings. The earring post should be made of surgical stainless steel or other hypoallergenic material. When you are ready for your next pair of earrings you can shop our selection of Studex Sensitive Line.

Keep a pair of earrings in your piercing for 9-12 months to avoid closing. Clear plastic earrings are available to use as a placeholder if needed.

Keep hairspray, shampoo, soap and other preparations away from your ear piercings. After shampooing, the ear should be rinsed with clear water and then prepared with a Studex Ear Care product as described above.

Minor swelling and/or redness may occur immediately—this is normal. This should settle within 48 hours provided that you follow these care instructions. If undue pain, swelling or redness occurs at any time, seek medical advice immediately.
Special considerations for the cartilage area
Due to the nature of the ear cartilage, extra care should be taken during the healing period. Piercings in the cartilage area take longer to heal than earlobe piercings (up to 3 months).
For cartilage, too, minor swelling and/or redness may occur immediately—this is normal. This should settle within 48 hours provided that you follow these care instructions. If undue pain, swelling or redness occurs at any time, seek medical advice immediately.
Important: Do not treat complications associated with ear cartilage piercings lightly! Failure to properly follow after care procedures or to seek medical advice, should a problem occur, may result in permanent scarring of the ear cartilage. Don't hesitate in such circumstances—you will be glad and relieved having sought the care of a physician in a timely manner.
You will enjoy your new ear piercings the most if you treat them well and take good care of them after piercing. Statistics show that by far the greatest percentage of post-piercing complications and infections are caused through the negligent after care procedures.
PROMOTES A FASTER HEALING TIME AND ALLOWS YOU TO CHANGE EAR LOBE EARRINGS IN JUST 3 WEEKS. USE 3 TIMES PER DAY FOR BEST RESULTS. SAFE, GENTLE AND RECOMMENDED BY DOCTORS.
PROMOTES HEALTHY HEALING. MAY CHANGE EARRINGS IN JUST 6 WEEKS FOR LOBES. USE 2 TIMES PER DAY FOR BEST RESULTS. SAFE, GENTLE AND RECOMMENDED BY DOCTORS.
Schedule An Appointment Today!
Whether you or your child wants their ears pierced, our team at Just The Ears Piercing Studio can help! Contact us today at 425-883-1006 to schedule an appointment or to get your questions answered.